Update 11/21: Due to high demand for the 50 free 4×8 photo cards offer from SeeHere, they are now charging shipping & handling of $3.19 for the 50 free 4×8 photo cards. I apologize for this unexpected change that SeeHere needed to make, but it's still a great deal (would normally cost $27.69 for 50 photo cards shipped). Also, they are offering free shipping on 60 photo cards so if you wanted to pay $4.90 for 10 photo cards then you'd get 60 for $4.90 shipped. Or just get 50 for $3.19 shipped.
I value your feedback on this promotion, and want to hear what you think. Please fill out my SeeHere Customer Satisfaction survey, it's just a short survey I created to get a better feel for what my readers thought about SeeHere and this promotion. Thanks!
*******************************************************************************

Read my updated 50 Free Photo Cards FAQ Post for help and answers to your questions about this amazing freebie!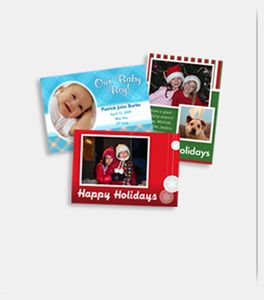 You can order 50 free 4×8 photo cards using the coupon code freebies4mom-1109 (type in that code) at SeeHere by Fujifilm. Due to high demand for this offer, they are now charging shipping & handling. You can get your 50 photo cards for $3.19 shipped. Or you can order 10 additional cards to qualify for free shipping to get 60 photo cards for $4.90 shipped. I'm able to bring it exclusively to my Freebies 4 Mom readers thanks to SeeHere. This coupon code expires on November 30.
If you are new to SeeHere you can also get 100 FREE PRINTS from SeeHere.com by FujiFilm when you sign-up for a new account using the coupon code prints (but you need to order those 100 free prints separately from the 50 free photo cards).
You can design any single-sided photo card, but what perfect timing if you plan on sending out at least 50 Christmas cards. The photo cards include envelopes and is single-sided 4×8 printed on photo paper in either horizontal or vertical orientations. If you need to order a few more than 50 they are priced at 49 cents each for 4×8. The photo cards are single-sided and printed on photo paper.
I used the snowflake background and placed three photos on my card. I included a greeting, the year, and our names as text on the photo card. I had fun using the photo editor to adjust the contract, brightness, and saturation of my photos to make them look better. Don't be afraid to play with that photo editor because it's easy to return to the original photo settings. And don't forget to check out the frames, they have lots of options!
Here are my tips on creating your custom photocard:
* Background – I recommend that you pick a background first. These are fully customizable cards which means you control how many photos and which sizes they are. I love that you aren't locked-in to the design like most photocards. I actually designed two different photo cards with two different backgrounds before finding the one I liked better. Don't be afraid to experiment until you get the best results.
* Photos – You have a choice, pick photos from your SeeHere account or add them directly from your computer.
* Text – Create your own and you control the size, font, and color.
* Frames – Don't forget to check out the frames, I was impressed with how many options there were.
* Speed – If you find that the SeeHere site is loading slowly then try again at another time. Don't spin your wheels and get frustrated. Sometimes there are lots of people trying to access the site at the same time and this can slow things down. So try again during non-peak times (late evening, and early morning).
Want to thank me for bringing this wonderful freebie to you? Tell your friends about it and send some new readers to my blog!
More photo deals
Subscribe to Freebies 4 Mom
6,801 total views