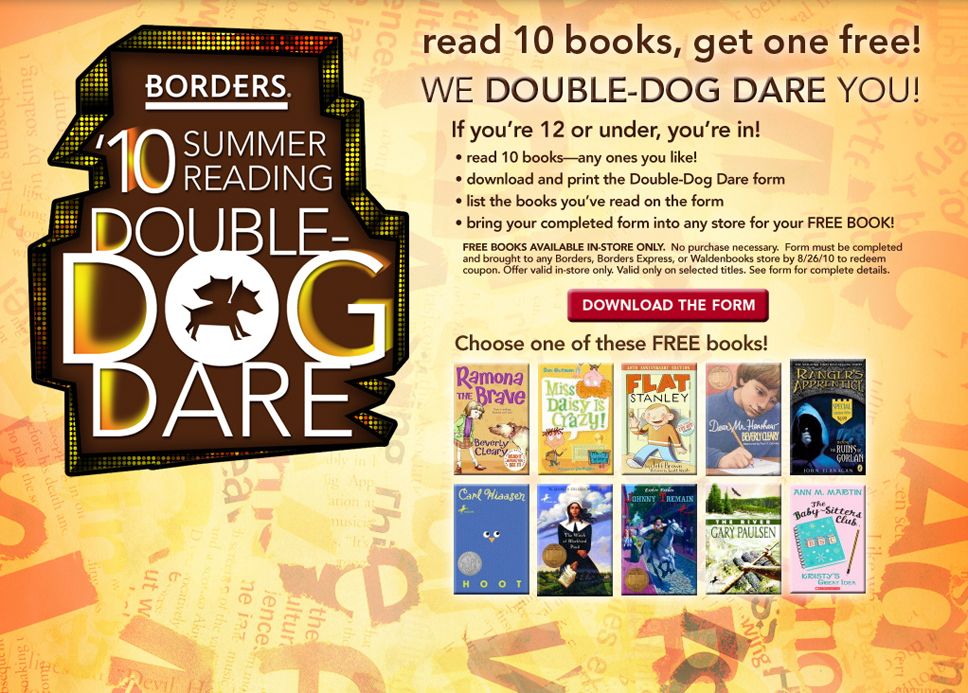 Giveaway has ended, but there are more Giveaways to enter. Borders wants your kids to join the Double-Dog Dare Summer Reading Challenge to encourage reading over the summer.  And thanks to Borders sponsorship, I'm giving away a $100 Borders Gift Card to one lucky reader!
Double-Dog Dare Summer Reading Challenge
I dare you to encourage your kids (ages 12 and under) to read 10 books!  If they do they will receive a free book!  This summer reading program starts May 4 and ends August 26.  Just download the form, read 10 books, then take the completed form to Borders for your kids to pick out one of these 10 books as your free book.
Reading Tip
Thanks to Jon Scieszka, author of Robot Zot and Knucklehead: Tall Tales and Almost True Stories of Growing up Scieszka
"If you want to inspire your boy reader, expand your definition of reading to include non-fiction, graphic novels, funny books, wordless books, audio books and magazines. Summer reading is a great time to explore texts that aren't covered/allowed in school reading."
Giveaway Guidelines
This giveaway will close Wednesday, June 30 at 11:59 pm (Central Time). I'll announce the name of the winners in a new post after the giveaway closes and contact the winners by email. I will draw the name of the winner by using the random number generator at Random.org from the eligible entries received. If a winner does not contact me within 72 hours by email, I will draw a new winner. This giveaway is only open to residents of the United States who are 18 years of age or older. The winner will receive their prize directly from Borders.
Fill Out The Form Below to Enter This Giveaway
You must complete this form to enter this giveaway. If you can't view the entry form below click here. If you still can't view the form, please email me with your name, answer the question below, and use the subject line "Borders Giveaway". Please enter this giveaway only once per person. Please answer this question: What would you spend a $100 Borders gift card on?
This giveaway has closed.
You are welcome and encouraged to post comments here, but any comments will not be considered as entries in this giveaway. Just for fun, please copy your answer to the question in my form above, and leave it as a comment.
What would you spend a $100 Borders gift card on?
Thanks for entering and come back after Wednesday, June 30 to find out who won, or visit my Winners section under the "Giveaways" category in the menu bar.
Visit my Summer Reading:  Free Books for Kids post for more summer reading programs.

Freebies 4 Mom Giveaway Disclosure: Borders sponsored this giveaway by providing the $100 gift card to give away to a randomly selected winner. I did receive a $100 Borders gift card to use myself as compensation for hosting this giveaway. My review is my honest opinion and is not reviewed or edited by Borders. For more information about how reviews and giveaways are conducted on Freebies 4 Mom, please read my Disclaimer, Disclosure, and Privacy Policy.