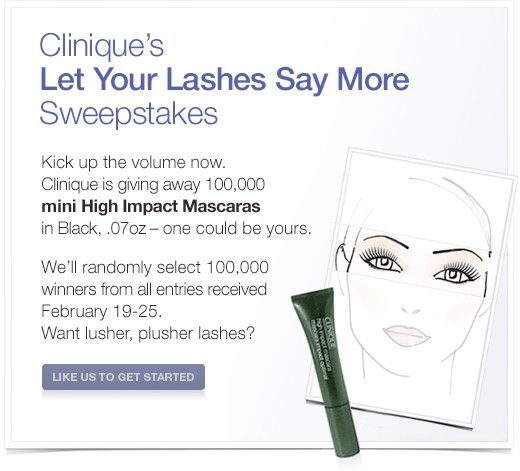 Winner notifications were emailed out on Monday, February 28 – I won my free mascara, did you? Go "Like" the Clinique Facebook page to make a one-time entry in the Clinique High Impact Mascara Sweepstakes under the "Free Mascara" tab. They will randomly select 100,000 winners of a mini Clinique High Impact Mascara in black. Chances of winning are great since they have just over 400,000 fans and I bet not all of those fans have entered this sweepstakes that started February 19 and closes February 25. Thanks goes to Deal Seeking Mom for sharing. You will need to allow the "Clinique's Let Your Lashes Say More Sweepstakes" application to access your basic information and post to your wall (remove it later with instructions below).
Remove Applications on Facebook Go to "Account" at the top right of your personal Facebook page then click on "Privacy Settings". Look at the bottom left for "Edit your settings' under Applications and Websites. You can then view all applications you've allowed and delete any that you wish by clicking on the "x" on the far right for each application listed. I recommend deleting applications that have access to your profile on a regular basis.
For more winnable sweeps and to learn strategies to help you win, go visit Sweeties Sweeps to play and win!
Helping you win the winnable Daily Sweeps 4 Mom at Freebies 4 Mom
Image credit: Clinique