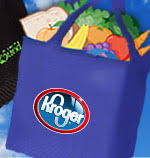 Only two of my readers won the $25 Kroger gift card, but all of my readers who shop at a store in the Kroger family can get a free reusable bag! Krogeris hosting a Kroger Reusable Bag Contest and they need your help and design skills! Design a bag and you'll get credit for one free reusable bag on your Kroger Plus card.
Kroger is my favorite grocery store to shop at. I've got a list of all the e-coupon sources for Kroger. Plus I'm listing the new Cellfire coupons as they are issued. I hope these resources help you save more money at Kroger!
I've got to say thank you to the 1,293 readers who entered to win my Kroger $25 Gift Card Giveaway. The randomly selected winners, compliments of Random.org, are listed below.
#343 Juliawon
#500 Morgan won
How do you know if you won? I just share the winner's first name here, but I sent the winners an email with the subject line "You Won $25 Kroger gift card on Freebies 4 Mom". I need to receive a response from the winners within 48 hours of the email that I send them. If I don't hear from a winner within that time frame, I will draw a new winner.
Find out about other giveaways you can enter right now.
Subscribe to Freebies 4 Mom and keep up with the free stuff!