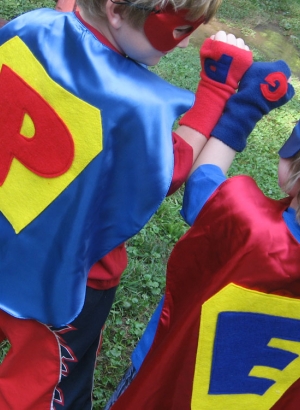 BabyPop provided Freebies 4 Mom with a custom Superhero Costume (cape and mask, approximate value $20) to give away to three of my lucky readers. What a fun way for your kids to be their favorite superhero! If you'd love to win a personalized Superhero Cape and Superhero Mask then fill out the short form below to enter my giveaway.
Superhero Costumes at BabyPop
These handmade superhero capes are simply the best and you can customize the color, logo, and initial to make it a super gift!  Made of a silky material with a velcro closure, they will fit most kids ages 2 to 7 years old.  My kids love wearing their capes and seeing their initial on them.  I love the high-quality that goes into them, and it's wonderful that you can customize them for your child and yet they are still affordably priced.
Donating Superhero Capes to Princess Alexa – Help Me Donate up to $750+
Sherry, the founder of BabyPop, used her superhero powers to make a generous donation of a $150.00 gift certificate to my favorite charity, The Princess Alexa Foundation, a charity that provides costumes to seriously ill children. Sherry must be some type of superhero for kids because she created Give a Cape to a Child in Need where for $12 you can donate a cape to her favorite charity Cradles to Crayons.  Since the superhero costumes are exactly what my favorite charity can use, I decided to create a reader challenge to determine the amount of the BabyPop gift certificate that I donate.  For every 1,000 entries I receive on this giveaway, I will donate a $150 BabyPop gift certificate to The Princess Alexa Foundation.  So if 1,000 readers enter, I will donate $150.  If 5,000 readers enter, I will donate $750 (and yes, I will donate more if even more people enter). If you only share one giveaway ever with your friends, this is the giveaway to share!
You must complete the form below to enter this giveaway once per person. If you can't view the entry form below
click here.
If you still can't view the form, please
email me
with your name, answer the question below and use the subject line "
BabyPop Giveaway
". Please answer this question:
Which Superhero will your child be?
*
Sorry, this giveaway has closed.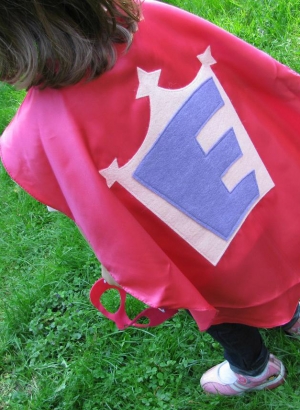 Giveaway Guidelines and Disclosure
BabyPop is providing the prize(s) for this giveaway at no cost to me. This giveaway is not administered or sponsored in any way by BabyPop or its affiliates, but soley by Freebies 4 Mom. Any questions or comments regarding this promotion must be sent to Freebies 4 Mom and not to BabyPop . I did receive compensation (in the form of two Superhero Capes and two masks for my children) for hosting this giveaway. My product review is my honest opinion and is not reviewed or edited by BabyPop . For more information about how reviews and giveaways are conducted on Freebies 4 Mom, please read my Disclaimer, Disclosure, and Privacy Policy. The email addresses that I collect for this giveaway will only be used for the purpose of contacting the winner(s), and will never be sold or given to anyone. This giveaway is only open to residents of the United States who are 18 years of age or older. You may enter only once per person. This giveaway will close Friday, October 22 Sunday, October 24 at 11:59 pm (CT). I'll announce the first name and first initial of the last name of the winner(s) in a new post the next day and contact the winner(s) by email. I will draw the names of the winner(s) by using the random number generator at Random.org from the eligible entries received. If a winner does not contact me within 72 hours by email, I will draw a new winner. The winner(s) will receive their prize by mail directly from BabyPop and Freebies 4 Mom is not responsible for lost or misdirected prizes (but of course I'll make every effort to make things right if there is a problem).
Good luck and remember that you need to complete the form above to enter this giveaway. You are welcome and encouraged to post comments here, but comments will not be considered as entries in this giveaway. Just for fun, please leave a comment and: Please share which Superhero your child will be?
Thanks for entering and come back after Friday, October 22 Sunday, October 24 to find out who won, or visit my Winners section under the "Giveaways" category in the menu bar.
Freebies 4 Mom readers are Winners – see what prizes I've given away!