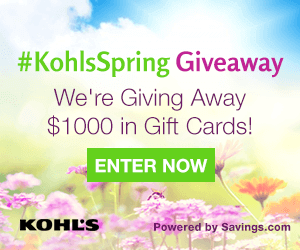 Giveaway has ended, but there are more Giveaways to enter. Enter to win a $50 Kohl's gift card (20 winners) in this 4-day giveaway from Savings.com. It's easy to enter by typing your email address, checking that you're 18+ years old and clicking the "Submit" button. Winners will be notified on Tuesday, March 31. Enter this giveaway once before it closes at 11:59 pm ET Saturday, March 28. Read the Official Rules.
You can also join me at the $400 #KohlsSpring Twitter Party Wednesday, March 25 at 9:00 pm ET. I'll tweet you then! Savings.com does a fabulous job of both spoiling us with giveaways and hooking us up with the best coupon codes.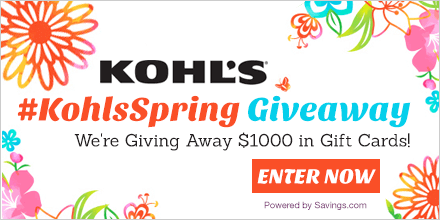 This post contains affiliate links, please visit my Disclosure Policy.
I help subscribers win prizes!
399 total views