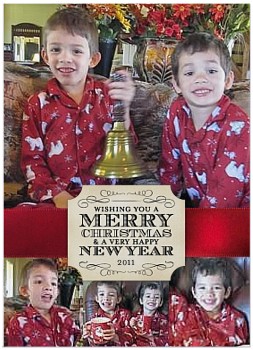 Vintage Ribbon Christmas Card
The best Holiday Cards start with great photos. Enter the Shutterfly Family Photo Days contest and you'll get 5 free Shutterfly cards ($12.45 value) just for entering any holiday photo. You still pay shipping ($5.99) and applicable sales tax. Just select the photo you want to enter into the contest, and you'll immediately get your unique code for five free folded 5×7 cards. Now that you've got a few free cards, here are some tips for finding the best family photo for them.
Tips for a Great Family Photo from Freebies 4 Mom
1. Are you friends with a photographer? – Do you have a friend or family member who knows photography? Can you invite them over to take your family photo?
2. Try a tripod – This may be the best solution for my family. I've got a camera with a timer on it, but still don't own a tripod (guess what I'm asking for as my gift under the tree?)
3. Pick Favorite Individual Photos – Take the pressure off if it's going to be too challenging to get that perfect family photo. Use a card layout that has multiple photos and pick your favorite individual photos from that year to use. If you feel the colors clash too much, try going black & white with all the photos. Or go for a photo of just your kids.
4. Take Your Christmas PJs on Vacation – This is what I did this year so we could stage some photos while we were on vacation in October. I packed the kids Christmas PJ's and they posed for me in the house we were staying at. It gave us a different background for our photos, and the kids were very happy that they were getting a sneak peek of the upcoming holiday.
What are your tips for getting a great family photo to use on your Christmas Cards?
This post is sponsored by Shutterfly. I received 50 free Shutterfly photo cards in exchange for writing this post. For more information about sponsored posts please visit my Disclosure Policy. (Image credit: Shutterfly)
Subscribe to Freebies 4 Mom and get the hottest photo deals
393 total views