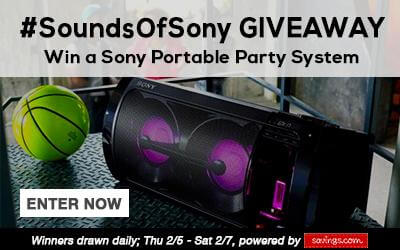 Please enter the current Sweepstakes instead of this expired one. You might win a Sony Portable Party System with w/ Bluetooth® & NFC (3 winners, $299 value prize) in this 3-day giveaway from Savings.com. It's easy to enter daily by typing your email address, checking that you're 18 years old or older and clicking on "Submit".
Each day someone wins this cool prize, so come back and enter again after the day "resets" at 12:01 am ET on Friday and Saturday. Winners will be notified within 48 hours of each day's drawing. You can only enter this giveaway once per day before it closes at 11:59 pm ET Saturday, February 7. Read the Official Rules for more information. Because this giveaway is only open for 3 days you've got an even better chance of winning! This post contains affiliate links, please visit my Disclosure Policy.
I help subscribers win prizes!
343 total views