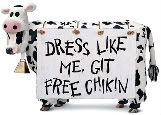 Mark your calendar because Friday, July 10 for Cow Appreciation Day at Chick-fil-A, where you get rewarded for dressing like a cow. I've heard that some stores are even having a "Costume Prep Party" where they are helping you make your costume. Why would you want to dress like a cow? It's fun and you get a free combo meal at Chick-fil-A when you fully dress as a cow. They've also got a cow costume kit to print plus photo contests to enter.
Last year we didn't dress like cows, but we did go thru the drive-thru for lunch that day and they gave us a big cow sticker and a coupon for a FREE Chicken Salad with the purchase of a medium Dr. Pepper. So even if you don't dress like a cow, it's still worth stopping by on Cow Appreciation Day because they might be passing out special coupons again to everyone.
I'd love to hear from any of my readers who plan to participate this year or participated last year!
Get more Freebies in your mailbox
Subscribe to Freebies 4 Mom
205 total views