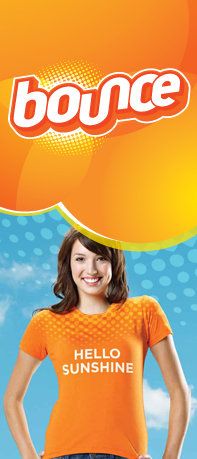 Sorry, as usual these were gone within seconds! Starting at 3:00pm CT get a free orange Bounce Bursts T-Shirt on Facebook (if you haven't already gotten one). They will go fast! By default the message you see is "All Gone" until the new giveaway starts.

Here are click-by-click instructions to get this freebie:
1. "Like" Bounce on Facebook
2. Look at the "Bursts" tab and scroll down for a form or instructions, I do not know when this giveaway will start today
3. Allow the Application to access your profile (follow instructions below to remove after you get your freebie)
4. Fill out the form with your mailing address and submit it

How to Delete an Application on Facebook Want to delete an application that you had to allow in order to get your freebie? It's easy, just go to "Account" at the top right of your Facebook page then click on "Application Settings". You can then view all applications you've allowed and delete any that you wish by clicking on the "x" on the far right for each application listed.
Interact with 95,352 fellow freebie lovers and "like" Freebies 4 Mom on Facebook.
Get Freebies via Facebook with help from Freebies 4 Mom