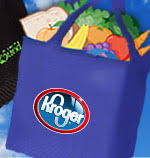 To celebrate the Kroger Reusable Bag Contest, two of my lucky readers will win a $25 Giftcard to Kroger. I love helping my readers save money on their groceries. Please enter my giveaway before the end of the day Tuesday, April 14 to have a chance to win!
And tons of my readers will get a free Kroger reusable bag! Take a minute to design your own bag in the Kroger Reusable Bag Contest and you'll get a free bag loaded to your Kroger Plus Card! Kroger is my favorite grocery store to shop at. I've got a list of all the e-coupon sources for Kroger. Plus I'm listing the new Cellfire coupons as they are issued.
Remember that to enter this giveaway hosted exclusively by Freebies 4 Mom, you must fill out the entry form here.
Find out about other giveaways you can enter right now.
Subscribe to Freebies 4 Mom and keep up with the free stuff!
229 total views