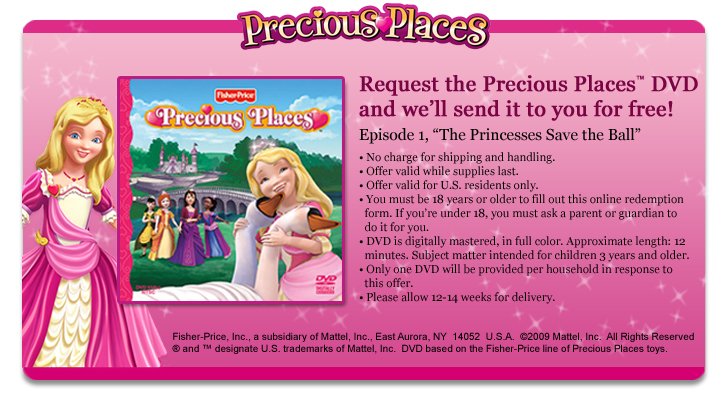 Sorry, looks like you can't request one right now but maybe they'll make more available soon! Get a free Precious Places DVD from Fisher-Price. Click on the green "Order your free DVD!" button. Then you need to "Select Country" in the top right pull-down menu and click the "Continue" button. Thanks goes to STL Mommy for the heads up! You'll get a short 12 minute episode called "The Princesses Save the Ball" but this DVD would be great to include in a little girl gift or maybe even save it as a stocking stuffer. You need to complete the order forms, but don't worry because it's totally free and there is no charge for shipping. They say it will take 12 to 14 weeks to receive it but all the free DVDs they've offered in the past have arrived quicker than that for me.
Find more free samples for your mailbox by exploring my Freebies.
Subscribe to Freebies 4 Mom and keep up with the free stuff!
638 total views