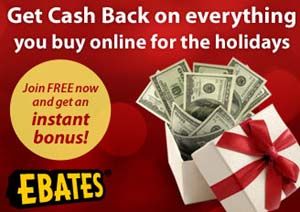 Ebates provided Freebies 4 Mom with $100 cash to give to one lucky reader to win and an iPod Shuffle ($49 value) to give another lucky reader to win in this brand new giveaway (see winners from the previous giveaways). Only Ebates members can enter (but it takes less than 15 seconds to sign-up if you're new). I'm here to help you save money, and Ebates has personally saved me tons of money over the past 3 years. If you are doing any shopping online, I recommend shopping through Ebates to earn cash back on most of your purchases (over 1,200 stores qualify for cash back).
If you would love to win $100 cash (who wouldn't?) or an iPod Shuffle then fill out the short form below to enter my giveaway. The cash winner will receive their $100 about two weeks after confirming their Ebates membership status. The iPod Shuffle winner will receive their prize by mail directly from Ebates after confirming their membership status.
Listen to Jan, a Freebies 4 Mom reader:
"I could kick myself for all the cash back I've missed out on over the years – virtually every single store I've shopped from qualifies for Ebates." -Jan

Get Double Cash Back for December
Check out the stores that have increased cash back for the month of December by clicking on "Double Cash Back" in the top right-hand corner after logging into Ebates.
Here are my favorites:

was 17.5%, now get
35.0% Cash Back
was 1.0%-3.0%, now get
3.0%-7.0% Cash Back
was 4.0%, now get
8.0% Cash Back
was 10.0%, now get
20.0% Cash Back
was 2.0%, now get
8.0% Cash Back
*
*
*
*
was 4.0%, now get
6.0% Cash Back
was 3.0%, now get
6.0% Cash Back
was 4.0%, now get
6.0% Cash Back
was 2.0%, now get
4.0% Cash Back
Enter This Giveaway
You must be an existing or new Ebates member to enter this giveaway, but no purchase is required to enter. You must complete the form below to enter this giveaway once per person. If you can't view the entry form below click here (you may need to scroll down until you see this giveaway). If you still can't view the form, please email me with your name, answer the question below and use the subject line "Ebates Giveaway". Please answer this question: Which store do you want "Double Cash Back" from?
This giveaway has closed.
Giveaway Guidelines and Disclosure
Ebates is providing the prize(s) for this giveaway at no cost to me. This giveaway is not administered or sponsored in any way by Ebates or its affiliates, but soley by Freebies 4 Mom. Any questions or comments regarding this promotion must be sent to Freebies 4 Mom and not to Ebates . I am an affiliate for Ebates, which means I receive monetary compensation for promoting them. For more information about how reviews and giveaways are conducted on Freebies 4 Mom, please read my Disclaimer, Disclosure, and Privacy Policy. The email addresses that I collect for this giveaway will only be used for the purpose of contacting the winner(s), and will never be sold or given to anyone. This giveaway is only open to residents of the United States who are 18 years of age or older. You may enter only once per person. This giveaway will close Monday, December 27 at 11:59 pm (CT). I'll announce the first name and first initial of the last name of the winner(s) in a new post the next day and contact the winner(s) by email. I will draw the names of the winner(s) by using the random number generator at Random.org from the eligible entries received. If a winner does not contact me within 72 hours by email, I will draw a new winner. The winner(s) will receive their prize directly from Ebates and Freebies 4 Mom is not responsible for lost or misdirected prizes (but of course I'll make every effort to make things right if there is a problem).
Good luck and remember that you need to complete the form above to enter this giveaway. You are welcome and encouraged to post comments here, but comments will not be considered as entries in this giveaway. Just for fun, please leave a comment and: Which store do you want "Double Cash Back" from?
Thanks for entering and come back after Monday, December 27 to find out who won, or visit my Winners section under the "Giveaways" category in the menu bar.
Freebies 4 Mom readers are Winners – see what prizes I've given away!