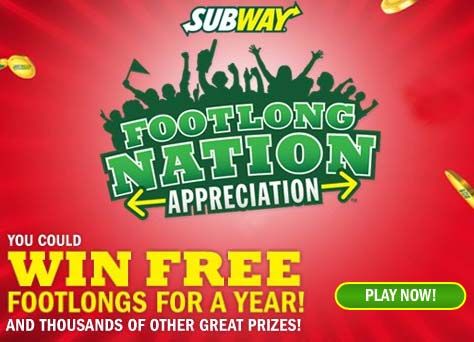 Luckiest Sweepstakes to Play Daily:
Over 500 winners each day:
Nestle Crunch Challenge (on Facebook)
45,000+ prizes, starts 12:01am PT daily, details here
Subway Footlong Nation Appreciation
7,000+ prizes, $5 to $260 gift cards, details here

Over 100 winners each day:
Cheerios
53,600 winners of free box of Cheerios plus everyone gets coupons, details here
Pace Hand-Pick & Win
129,000 winners of free Pace w/coupon by mail, details here 
Honey Nut Cheerios Sweet Rewards
40,000+ prizes of $5 cash cards, play 10x daily, win 10 days, details here
Over 10 winners a Day:
Extra Gum The 3PM Smackdown Challenge
11,000+ prizes, credit to spend on fitness prizes, details and get codes here
Nature Valley Get Some Nature
4,000 prizes, details here
Dove Spin for your Skin
2,000 prizes of free bar soap, play 3x daily, details here
Dove Soap Toss
650 prizes, all 1 yr of Dove Beauty Bars, details here
Safeway Back to School
3,500+ prizes of Box Tops for your school, details here
New sweepstakes are available at Huggies Enjoy The Ride Rewards too, but you've got to enter codes in order to play so it's not something you can play daily unless you save up your points. I recommend trying the "Interactive Game" called Cash Extravaganza II to try to win $10 cash (odds are 1 in 84). I've listed all the Huggies codes here.
What's New in Sweeps?
Lots of free Nestle Crunch candy bars can be won on Facebook – the key is to play their trivia game at the right time and collect 1,000 points right after the clock starts ticking at 12:01 am Pacific Time. The first 1,000 to reach 1,000 points each day get a coupon for a free Nestle Crunch bar. You can play the game as many times as you want to collect more points – they ask general trivia questions plus questions about your friends on Facebook. Keep playing daily because you can win more than one coupon!
A little healthier prize is a free box of Cheerios and there are over 50,000 boxes up for grabs. This is a daily entry sweepstakes, so fill out that form every day until you get an email saying that you won!
What did I Win?
I kind of took a break from playing the daily sweeps in December, so I don't have any wins to report.

What did you Win?
Janet won a year's supply of diapers from Huggies!
Play daily for the best chance to win the sweepstakes. It's easier to remember to take a few minutes to play if you make it part of your daily routine. Short on time? Just play the sweepstakes I list with over 100 winners a day – those are the easiest ones to win!
What did you win recently? Please leave a comment and share with us!
My readers are my best source of information about new sweepstakes.
Please email me if you find a new sweeps, I typically list those with at least 10 winners a day.

More sweeps to play
Subscribe to Freebies 4 Mom