Update 11/21: Due to high demand for the 50 free 4×8 photo cards offer from SeeHere, they are now charging shipping & handling of $3.19 for the 50 free 4×8 photo cards. I apologize for this unexpected change that SeeHere needed to make, but it's still a great deal (would normally cost $27.69 for 50 photo cards shipped). Also, they are offering free shipping on 60 photo cards so if you wanted to pay $4.90 for 10 photo cards then you'd get 60 for $4.90 shipped. Or just get 50 for $3.19 shipped.
I value your feedback on this promotion, and want to hear what you think. Please fill out my SeeHere Customer Satisfaction survey, it's just a short survey I created to get a better feel for what my readers thought about SeeHere and this promotion. Thanks!
*******************************************************************************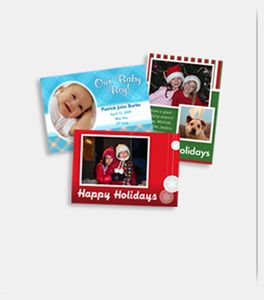 Questions are rolling in about the 50 free single-sided 4×8 photo cards using the coupon code freebies4mom-1109 at SeeHere by Fujifilm. So here are some answers:
Q: I can't see the card design I selected on the "canvas" to add my photos to – what am I doing wrong?
A: Try using Firefox as your browser, I've heard that readers are having better luck using it as their browser when they're designing their card with SeeHere. Firefox is the web browser I recommend using, it's free to download here and free to use.
Q: When I entered the coupon code it said it was invalid.
A: This great promotion has attracted tons of traffic on the SeeHere site so that means they are working to correct technical problems which may be occurring. So you need to try again at a different time – late evening and early morning are best when there are less people accessing the site at the same time. Don't give up, just try again later.
Here are a few other tips thanks to my readers:
* Try typing in the code instead of copying & pasting it
* Alternative I've had a few readers say that typing in the code didn't work, but copying & pasting did (so try that too)
* Be sure to order 50 cards (can be 1 design or several, but the total number needs to be 50)
* Instead of clicking "submit" with your mouse, use the "Tab" key and the "Enter" key.
Q: How long is this offer good for? Is there any limit?
A: This offer is good until Monday, November 30. The only limit is one free photo card order per customer.

Q: This is amazing. Is there any catch? Like the code only works for the first 50 people?
A: No catch, just a great offer from a great company. I'm an affiliate for SeeHere and they want my readers to experience their photo services first-hand (for free). Offering a freebie like this is a great way for them to get exposure by letting you try their photo cards for free.
Q: Do the 50 free photo cards all have to be the same design?
A: No, you can order more than one photo card design and you'll get 50 free photo cards total (whether it's one design or five designs). You can design any card you want to – holiday, announcement, thank you.
Q: How do you resize a photo after you add it to your photo card background?
When you click on the photo that you've placed on your photo card you will see a green frame around it. See those little circles in each corner? Click and drag that corner to change the size of your photo.
Q: Does anyone know if you can order multiple sets per address? I live with my parents and didn't know if I could take advantage of the offer and my mom could too.
A: You should be able to place one order per customer. So if you have an account and someone else in your household has an account, you can both get 50 free photo cards.
Q: I made my card and it all worked out but I still haven't received an email from them saying that they got my order?
A: You should receive an email confirming your order, but if you don't you need to check "My Account" (top menu) and then click on "View Order History". Contact SeeHere (click on "Contact" at top right) if you still don't see your order. It's possible that due to technical problems caused by high traffic, your order was not received.
Q: Is this offer available for Canada?
A: No, it's only available for U.S. addresses.
Thanks for Your Thanks
I really appreciate all of the comments I've received thanking me and SeeHere. I also appreciate the feedback about your questions and problems encountered because it helped me put together this FAQ post. If you want to thank me back you can share this free photo card offer with friends. Seriously, the best way to thank me is to help spread the word about all the free stuff you're getting thanks to Freebies 4 Mom.