Don't miss this great deal and take 30%  off everything at Aeropostale with coupon code BTS30 thru Monday, August 22. I'm a fan of their Graphic Tees for $4.90 (after using coupon BTS30)  and Plaid Shirts for $8.40 (after using coupon BTS30) for boys. They have a wide selection of designs boys will like in the staple classic styles that they need for back to school. And you definitely can't beat these low prices!
Spoil yourself when you enter to win a $50 Aeropostale gift card (10 winners) in this 6-day Giveaway from Savings.com. It's easy to enter by typing your email address, checking that you're 18+ years old and clicking the "Submit" button. Winners will be notified on Wednesday, August 24. Enter this giveaway once before it closes at 11:59 pm ET Monday, August 22. Read the Official Rules.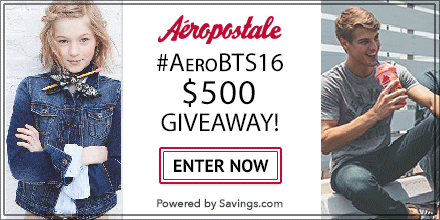 If you're looking for coupon codes for other stores, Savings.com is the best place to get them to help you save money! This post is sponsored by Aeropostale and contains affiliate links, please visit my Disclosure Policy.
I help subscribers win prizes!