Kroger is holding a Mega Savings Event where you get a $5 instant savings when you buy 10 participating products. Thanks to General Mills and PepsiCo, I received a $30 Kroger gift card to take to the store and see how far I could make it go with this promotion. I also will give one of my lucky readers a $30 Kroger gift card. I'll share exactly how far I made my $30 gift card go later this week!

Participating Stores
Remember that participating stores include many stores in The Kroger Family. Be sure to check your local store ad for details on participating products. The promotion start date varies across this week, at my Kroger it starts on Wednesday, August 19. The promotion ends the last week of August/first week of September, at my Kroger it ends on Tuesday, September 1.
Participating Products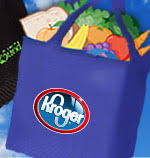 General Mills and PepsiCo products are participating in this promotion. See your local store sales ad for details, but here's a general list. Participating brands include: AMP Energy, Aquafina, Betty Crocker Baking Mixes, Betty Crocker Fruit Snacks, Cascadian Farms Cereals and Bars, Cap'n Crunch, Cheerios, Cheetos, Chex Mix, Cinnamon Toast Crunch, Cocoa Puffs, Dole Juices and Juice Drinks, Fiber One, Fritos, Gatorade, Golden Grahams, Green Giant, Hamburger Helper, Life , Lipton Tea, Nature Valley, Old El Paso, Pepsi family of 2 Liters, Pillsbury, Progresso, Propel, Quaker Instant Oatmeal, Quaker Chewy Bars, Starbucks, Sobe Life Water, Totino's, Trix, Tropicana, Yoplait and MORE!
Up the Savings with Coupons
The key to saving the most money is to double-up on the types of savings you get. Kroger is giving you $5 instant savings, and you can use coupons to increase that savings. During promotions like this, I try to use one coupon on every single item I purchase as a participating product. Here are sources of coupons I'm turning to as I prepare to get the most bang for my $30 at Kroger:
Coupons.com
– offers tons of coupons on General Mills products participating in this promotion
Kroger eCoupons – my resource list of coupons to load
Product Coupons:
some I've posted before so you may have already printed them, I also don't know exactly which products are participating since my new Kroger ad has not been released yet
Save $0.60 on three Yoplait Whips
(print in IE here or Safari here)
Save $1 off one Yoplait YoPlus multipack
(if you don't use Firefox, here's the IE link and Safari link)
Save $1.25 off one Yoplait Delights Yogurt Multipack
(if you don't use Firefox, here's the IE link and Safari link)
Buy One Get One Free (up to $1.59) on SoBe Lifewater
(use this link in IE and this link in Safari)
General Mills Cereal and Nature Valley Granola Bars
thanks to Money Saving Mom
Enter this Giveaway
The email addresses that I collect for this giveaway will only be used for the purpose of contacting the winner, and will never be given to anyone. This giveaway will close Saturday, August 22 at midnight (CST). I'll announce the first name of the winners in a new post after the giveaway closes and contact the winner by email. I will draw the name of the winners by using the random number generator at Random.org from the eligible entries received. If a winner does not contact me within 48 hours by email, I will draw a new winner. This giveaway is only open to residents of the United States who are 18 years of age or older. The winner will receive their gift card by mail directly from MyBlogSpark.
You must complete this form to enter this giveaway. Required questions have been marked.Please only enter this giveaway only once per household.

Sorry, this giveaway has closed.

Good luck and remember that you ne
ed to complete the form to enter this giveaway. You are welcome and encouraged to post comments here, but any comments will not be considered as entries in this giveaway.
Just for fun, please leave a comment and tell us what products you'll be buying during the Mega Savings Event?
Thanks for entering and come
after Saturday, August 22
to find out who won!
Freebies 4 Mom Giveaway Disclosure:

MyBlogSpark sponsored this giveaway by providing the gift card to give away. They also provided me with a gift card so I can share what I'm able to buy with it
.
MyBlogSpark
does not compensate me in any other way for this giveaway.
1,206 total views