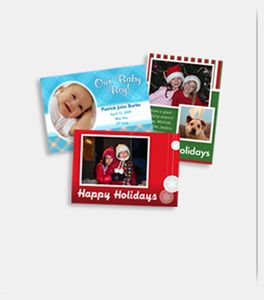 Today is the last day you can order 50 free 4×8 photo cards using the coupon code freebies4mom-1109 (type in that code) at SeeHere by Fujifilm. Due to high demand for this offer, they are now charging shipping & handling. You can get your 50 photo cards for $3.19 shipped. Or you can order 10 additional cards to qualify for free shipping to get 60 photo cards for $4.90 shipped. I'm able to bring it exclusively to my Freebies 4 Mom readers thanks to SeeHere. This coupon code expires at the end of the day on Monday, November 30.
If you are new to SeeHere you can also get 100 FREE PRINTS from SeeHere.com by FujiFilm when you sign-up for a new account using the coupon code prints (but you need to order those 100 free prints separately from the 50 free photo cards).
If you've got questions about this offer, please email me and I'll respond as soon as I can. You can also visit my FAQ Post. If you've already received your photo cards, please fill out my SeeHere Customer Service Satisfaction survey to tell me what you think!
More photo deals
Subscribe to Freebies 4 Mom
463 total views