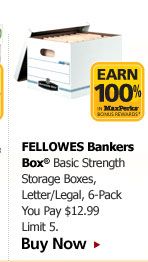 Office Max is offering another "free after MaxPerks Rewards" deal for MaxPerks Members (for businesses and teachers) to get a really sweet deal on paper, storage boxes, file folders, sharpie pens, envelopes, and binders this week (ends Saturday, March 20 or while supplies last). Shipping is free for orders over $50. This is a great deal if you can use these office supplies – they are "free after rebate" if you use your MaxPerks Rewards to purchase something you'd normally be buying.
Here's the deal:

1. Shop at OfficeMax.com through Ebates for 3% cash back
Plus if you are new to Ebates earn a $5 bonus after you sign-up and make your first purchase of $20 or more. Ebates is the best way to earn rebates on anything.

2. Be Sure you enter your MaxPerks Member Number
You have to be a member in order to get the bonus rewards. Make sure your MaxPerks Member Number is associated with your account before you check out.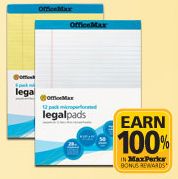 2. Buy the "Free after MaxPerks Bonus Rewards" products you can use.  Remember you get free shipping if you order over $50.
From the OfficeMax home page click on the second slide that says "It's Like Getting Supplies FREE:" in large purple text to get to all the qualifying products.
3. Enjoy your free office supplies
This is only a great deal if you already have the money to spend on office supplies and have a use for these supplies. You also need to know that you'll use those MaxPerks Bonus Rewards to buy office supplies that you need in the future. Remember that it takes awhile to get those bonus rewards available to use in your account, it's not an immediate credit.  You should get an email when your MaxPerks Rewards are issued and then you can use them online or print and take them to the store to use.
Get money back with rebates
Subscribe to Freebies 4 Mom
192 total views