Need some gift ideas for Dads and Grads? Jamie Sorcher, Resident Tech Expert for Skype, comes to your rescue with these four featured gifts below. I won't be giving any of these gifts away, but I will give 3 readers this Logitech QuickCam Pro for Notebook webcam and a 3-month voucher for Skype Unlimited World calling. This prize has an approximate retail value of $138 and would be perfect for anyone who doesn't have a webcam for their notebook computer. If you are new to Skype's free services, please read my own introduction to Skype here
Skype asked me to share this gift guide with you that was written by Jamie Sorcher, Resident Tech Expert for Skype.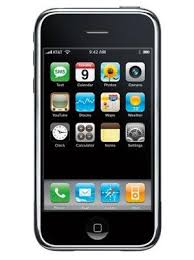 iPhone 3G For Future Entrepreneurs ($199)
The perfect gift for any graduate or go-getter, the iPhone 3G is known for its sleek design and easy user interface, but the fun part is the great apps including a new addition from Skype™. Now, from any Wi-Fi zone, on-the-goers can stay connected through free Skype-to-Skype calls, while saving money on mobile phone bills.
CIR1000A Perfect for Audiophiles ($179.95)
Now dads and grads can enjoy their favorite radio stations or podcasts on the go with Cobra's bookshelf radio, the CIR1000A. The Cobra radio plays streaming Internet radio using a WiFi network or broadband Internet connection.
Callpod Charger ($40)
The perfect accessory for dad's desk or a grad's backpack, the Callpod Charger is a small, portable and lightweight 6-way charging device that lets you charge multiple cell phones, PDAs, headsets, and most other mobile electronics with a single power cord.
Samsung SL camera is Picture Perfect ($100)
Don't let those great times be a distant memory by Labor Day. Capture summer-time memories with the stylish Samsung's new SL-Series camera SL-10 offering high-end features and performance at a great price. This 10 megapixel camera, with compact design and classy brushed metal finish, is perfect for families and beginner photographers
Want to enter this giveaway for a chance to win? The email addresses that I collect for this giveaway will only be used for the purpose of contacting the winner, and will never be given to anyone. This giveaway will close Friday, June 19 at midnight (CT). I'll announce the first name of the winners in a new post the next day and contact the winners by email. I will draw the name of the winners by using the random number generator at Random.org from the eligible entries received. If a winner does not contact me within 48 hours by email, I will draw a new winner. This giveaway is only open to residents of the United States who are 18 years of age or older. The winners will receive their prizes by mail directly from Skype.
You must complete this form to enter this giveaway. Required questions have been marked. Please only enter this giveaway only once per household.

Loading…

Good luck and remember that you need to complete the form to enter this giveaway. You are welcome and encouraged to post comments here, but any comments will not be considered as entries in this giveaway. Just for fun, please leave a comment and tell us how you use Skype to connect with family and friends.
Thanks for entering and come back Saturday, June 20 to find out who won just in time for Father's Day.

Freebies 4 Mom Giveaway Disclosure: Skype sponsored this giveaway by providing three Logitech webcams and 3-month Skype World vouchers to give away. Skype also gave me a one-month Skype Unlimited World subscription so that I may try their paid services first-hand and share my honest opinion with my readers. My product reviews are an expression of my own honest opinion based on my experience trying the product, and are not reviewed or edited by Skype. Skype does not compensate me in any other way for this giveaway.

Find out about other giveaways you can enter right now.
Subscribe to Freebies 4 Mom and keep up with the free stuff!
394 total views