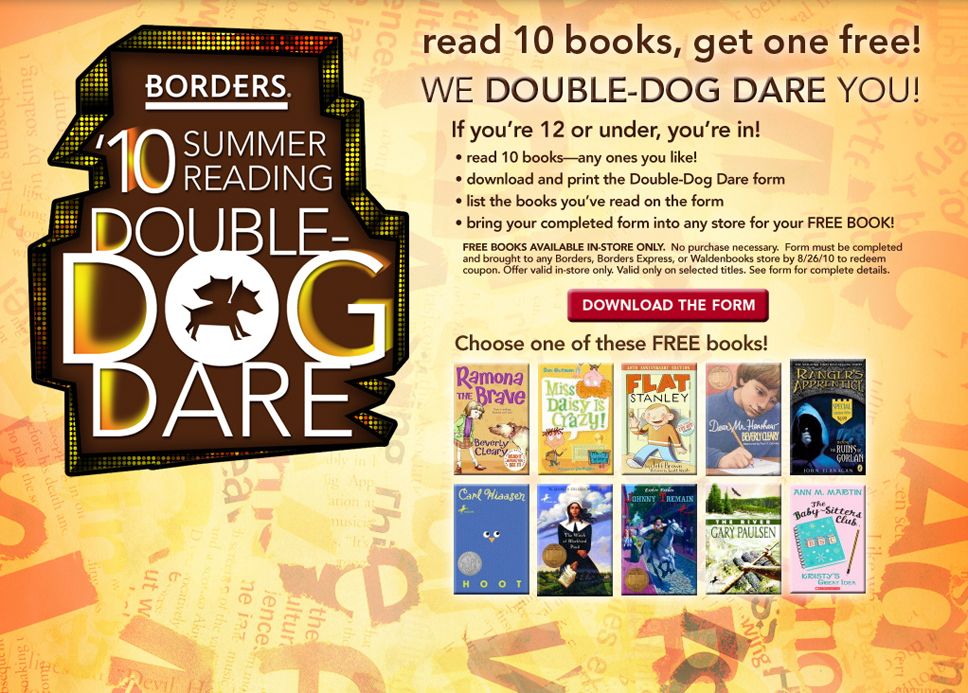 Participating in Summer Reading Programs is a great way to keep your kids interested in reading and learning over the summer, and they can earn free books and other fun stuff too!
Barnes & Noble – for kids in Grades 1 thru 6, you can earn a free book after reading 8 and some locations also have a regularly scheduled story time (check find an event for your store).  Starts May 25 and ends September 7.
Borders "Double Dog Dare" – for kids under 12 you earn a free book after reading 10 books   There are 10 titles to choose from for your free book.  Starts May 4 and ends August 26.

Half-Price Books "Feed Your Brain" – Stop by a Half-Price Books and CiCi's Pizza where your kids can make money on reading! Kids under 14 can earn a $3 Half-Price Books gift card each week (up to $27 if you participate every week) for every week they read at least 15 minutes a day from June 1 to July 31. Talk about a rewarding reading program!
Pottery Barn Kids Book Club – not just a Summer program, this regularly scheduled storytime goes on all year long on Tuesdays from 11 to 11:30 am. And your kids get a coupon ($10 off a purchase I hear) after attending 5 sessions and getting their booklet stamped.
Chuck E. Cheese Reading Rewards Calendar – fill the reading chart for 2 weeks and turn it into Chuck E. Cheese for 10 free tokens (with pizza purchase), check out all the Rewards Calendars you can use to motivate your kids.
Bookworm Wednesdays – Showcase Cinemas, Multiplex Cinemas, and  Cinema De Lux offer free admission to a children's film on Wednesdays when you submit a book report.  Starts July 7 (thanks Saving Dollars & Sense)
TD Bank Summer Reading – read 10 books and get $10 cash! A great incentive if you've got this bank near you. Thanks goes to Baby Good Buys for sharing it with me.  Starts May 3 and ends September 30.
Scholastic Summer Challenge – a great way to motivate kids by earning points for reading. There are tons of resources but I don't see any sweepstakes this year to win prizes.
For my Texas readers:
HEBuddy Reading Club – Watch for details (will be announced soon) read 10 books and earn a free t-shirt and 20 point sticker. This is one that my boys and I will be doing because reading to your young children counts too!
*************************************************
Other Resources
Check
your local library
for their Summer Reading programs and check
SummerReading.org
for more resources.
Book Adventure is a free reading motivation program by Sylvan that you can use year-round for Grades K-8.
I know there are more reading programs out there, and I'd be thrilled if you leave a comment to share the reading programs you're excited about. Remember that it's easy to leave a comment because I accept comments from "Anonymous" (but it's always nice if you leave your first name to we can chat easier).
Happy reading this summer!
Sharing the hottest Freebies for Kids at Freebies 4 Mom
461 total views