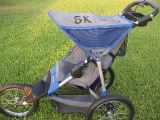 People like me are giving away things like this (I'm in Houston) on Freepeats.org.
Freepeats is growing and is now found in over 50 cities.
Angie, the founder of Freepeats, is my friend and her blog Baby Cheapskate was the first blog I started reading on a regular basis.

There are a lot more reasons to join Freepeats, but you've got to login to your local group to find them (see what's free in your city).

Get more Freebies in your mailbox
Subscribe to Freebies 4 Mom