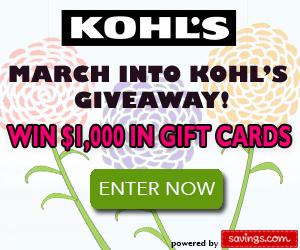 Giveaway has ended, but there are more Giveaways to enter. You might win a $50 Kohl's gift card (20 winners) in this 4-day giveaway from Savings.com. It's easy to enter by typing your email address, checking that you're 18 years old or older and clicking the "Submit" button. Savings.com does a fabulous job of both spoiling us with giveaways and hooking us up with the best coupon codes. Winners will be notified on Tuesday, March 10. You can only enter this giveaway once before it closes at 11:59 pm ET Sunday, March 9. Read the Official Rules for more information.
*
Because this giveaway is only open for 4 days you've got a great chance of winning! Good luck and come back and leave a comment if you WIN!!! This post contains affiliate links, please visit my Disclosure Policy.
I help subscribers win prizes!
486 total views