Sorry, this eBook is no longer free – but find more free eBooks on Freebies 4 Mom.
Enjoy a FREE Gooseberry Patch Cookbook as a free Kindle book from Amazon. Normally priced at 99 cents,  but free for a limited time. Remember that you can read Kindle books on your computer or smart phone for free (you don't have to own a Kindle). Here they are:
Also free on Nook, not yet free on Kobo or Sony Reader (but keep an eye on it to possibly change)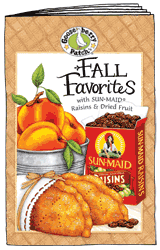 Request the Gooseberry Patch Fall Favorites recipe booklet by mail and download a PDF of Gooseberry Patch Family Favorite Recipes. You might also be interested in the free recipe booklets from Sun-Maid Raisins.
Find FREE bestselling Kindle eBooks plus the FREE eBook collections. Read Kindle books on your PC, Mac, iPhone, iPad, Blackberry, Android, or Windows 7 Phone (no need to own a Kindle). This post contains affiliate links, which means Amazon pays me to promote their products. For more information about Freebies 4 Mom please read my Disclaimer, Disclosure, and Privacy Policies.
Free Books at Freebies 4 Mom to entertain your family
Subscribe to Freebies 4 Mom for daily updates
Image credit: Gooseberry Patch