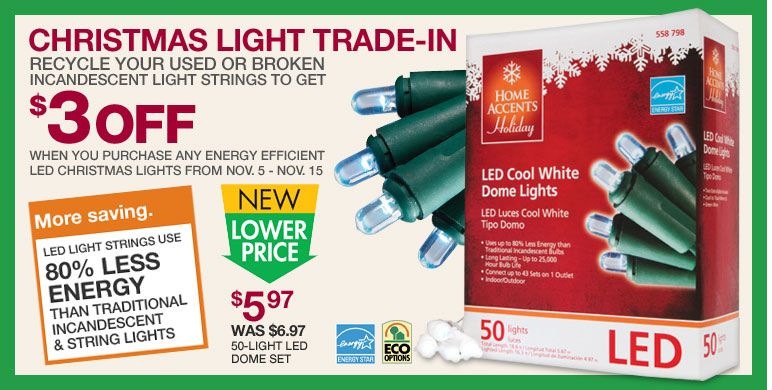 You can get some sweet deals on lights through Sunday, November 14 at The Home Depot when you trade-in your old or broken Christmas Lights for a $3 off any Energy Efficient LED lights coupon (coupon only available in-store, up to 5 coupons per customer).  Remember you can trade-in up to 5 strands of old or broken lights for up to 5 coupons.
Remember that The Home Depot also accepts competitor's coupons! I've been saving my $5 off $25 True Value coupons I find in my free magazines to use at The Home Depot. Each store handles the coupons a bit differently so I recommend you talk to the Customer Service desk. My store will accept most competitor's coupons and even some printable coupons (manager reviews them on a case-by-case basis).
Plan-Ahead Tip: Don't throw away any light strands that stop working during this holiday season. Even if there aren't any current "trade-in" deals for your lights right now, save them for next season when we'll likely see similar offers! This is the second year The Home Depot has done a lights trade-in program so I expect they'll do it next year too.
281 total views