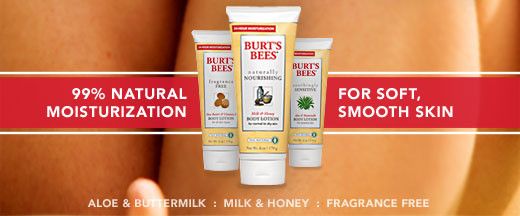 Visit Burt's Bees on Facebook to ask for a free sample of Burt's Bees lotion when you take the short quiz under the "What Skin Says" tab. Burt's Bees recommends using the Mozilla Firefox browser to best view the survey and fill out the form. Click on the red "Start the Quiz" button. You will need to grant permission to "Burt's Bees Give Your Skin a Voice" application (remove it later with instructions below). After you give you skin a voice, then you'll be able to fill out the form to ask for a free sample. Thanks goes to Megs for emailing me about this new sample offer! You should receive your free sample within 6 to 8 weeks.
How to Delete an Application on Facebook Want to delete an application that you had to allow in order to get your freebie? It's easy, just go to "Account" at the top right of your Facebook page then click on "Privacy Settings".  Look at the bottom left for "Edit your settings' under Applications and Websites. You can then view all applications you've allowed and delete any that you wish by clicking on the "x" on the far right for each application listed.
Interact with 96,864 fellow freebie lovers and "like" Freebies 4 Mom on Facebook.
Get Freebies via Facebook with help from Freebies 4 Mom
437 total views