Sealy provided Freebies 4 Mom with a Embody by Sealy Mattress ($1,999 value) for one lucky reader to win. They also provided me with Embody by Sealy Memory Foam mattress to review and keep.  I love my new mattress and I'm excited to give away such a big prize, just fill out the short form below to enter my giveaway. The winner gets to choose an Embody by Sealy Memory Foam or Latex Foam mattress in the size that they need and free delivery is included in this prize.
Can a new mattress improve your quality of sleep?  I think it can if you buy the right mattress that offers you support and comfort. I was excited to receive an Embody by Sealy Memory Foam mattress to review to find out how it could improve my sleep.  My old mattress was a traditional innerspring so I was completely new to a memory foam mattress and I honestly didn't know what to expect.  When you read the description on the Sealy website it says that it feels like sleeping "in" the mattress.  I wasn't sure what that would mean to me until I tried out my new mattress. I was also wondering if the memory foam would feel too "squishy" and not offer adequate support.  But I definitely wanted to try it, and felt this was a great opportunity for me to get the new mattress I needed and help one of my readers get one too!
My Better Night of Sleep on Embody by Sealy
My Embody by Sealy Memory Foam mattress "embraces" me when I lie down.  I feel more comfortable than when sleeping on my old innerspring mattress because I'm not spending time fidgeting or readjusting my position to try and get comfortable enough to fall asleep.  Since I'm feeling more comfortable, I do feel like my new Sealy mattress helps me fall asleep faster.  It's definitely not too soft or squishy for me – the memory foam does an amazing job of offering adequate support exactly where I need it.  I highly recommend considering the Embody by Sealy mattresses if you are shopping for a new mattress.  The best way to get a feel for these new mattresses is to find a retailer that sells Sealy mattresses.
What's special about Embody by Sealy?
Sealy highlights the following features for their new Embody by Sealy mattresses on their website.  These product claims come directly from Sealy.
Mattress surface is up to 5 times more breathable than other leading memory foam mattresses
Designed to allow air to flow through the foam
Body Climate fabrics by Polartec help circulate air and wick away moisture
Memory foams are CFC-free and anti-microbial
Enter the Embody by Sealy Sweepstakes
Everyone can enter for a chance to win a trip for 2 to Patagonia, a $5,000 bedroom makeover, an Embody mattress, or an iPhone. It's very quick to enter, you can even login with Facebook for an even faster entry.
*
Enter The Simple+Healthy=Rest Short Film Contest
Submit a short video (less than 3 minutes) and you'll get a free Polartec Thermal Pro Blanket plus 20 extra entries in the Embody by Sealy Sweepstakes.
Enter This Giveaway
You must complete the form below to enter this giveaway once per person. If you can't view the entry form below click here (you may need to scroll down until you see this giveaway).If you still can't view the form, please email me with your name, answer the question below and use the subject line "Sealy Giveaway". Please answer this question: How will a new mattress help you sleep better?
Sorry, this giveaway is closed.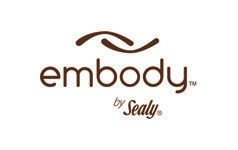 Giveaway Guidelines and Disclosure
Sealy is providing the prize(s) for this giveaway at no cost to me. This giveaway is not administered or sponsored in any way by Sealyor its affiliates, but soley by Freebies 4 Mom. Any questions or comments regarding this promotion must be sent to Freebies 4 Mom and not to Sealy. I received an Embody by Sealy Memory Foam mattress to review and keep as a thank you for hosting this review and giveaway. My product review is my honest opinion and is not reviewed or edited by Sealy. For more information about how reviews and giveaways are conducted on Freebies 4 Mom, please read my Disclaimer, Disclosure, and Privacy Policy. The email addresses that I collect for this giveaway will only be used for the purpose of contacting the winner(s), and will never be sold or given to anyone. This giveaway is only open to residents of the United States who are 18 years of age or older. You may enter only once per person. This giveaway will close Wednesday, December 8 at 11:59 pm (CT). I'll announce the first name and first initial of the last name of the winner(s) in a new post the next day and contact the winner(s) by email. I will draw the names of the winner(s) by using the random number generator at Random.org from the eligible entries received. If a winner does not contact me within 72 hours by email, I will draw a new winner. The winner(s) will receive their prize directly fromSealy.
Good luck and remember that you need to complete the form above to enter this giveaway. You are welcome and encouraged to post comments here, but comments will not be considered as entries in this giveaway. Just for fun, please leave a comment and: How will a new mattress help you sleep better?
Thanks for entering and come back after Wednesday, December 8 to find out who won, or visit my Winners section under the "Giveaways" category in the menu bar.
Freebies 4 Mom readers are Winners – see what prizes I've given away!
1,903 total views