Sorry, this giveaway has ended. SeaPak provided Freebies 4 Mom with a $75 value SeaPak Prize Pack to give to one lucky reader that includes Popcorn Fish, Popcorn Shrimp, Shrimp Scampi, and Jumbo Butterfly Shrimp. They also provided me with my own prize pack so I could taste their products and write this review. If you would love to win delicious seafood from SeaPak then fill out the short form below to enter my giveaway.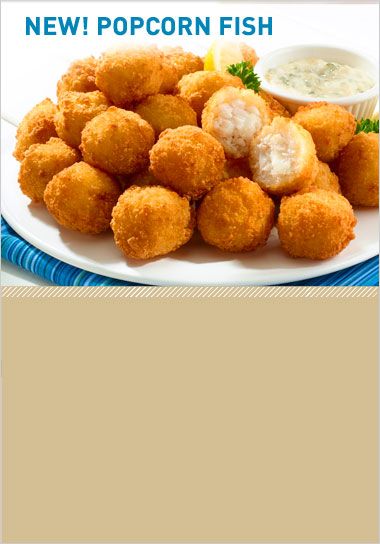 SeaPak Recipes Rock
First, go ask for your free Easy Seafood Meals recipe booklet in your mailbox to get great ideas on how to incorporate SeaPak seafood into your meals (there are over 20 recipes!).  I love that each recipe includes a cost estimate. Plus it includes two coupons to Save $1 on any two SeaPak items.  You can also browse SeaPak recipes online, I'd like to try the Baja Popcorn Fish Tacos.  We've really enjoyed all of the seafood included in the SeaPak Prize Pack but we've been all about quick meals lately so I haven't tried anything creative yet.  My kids love the new Popcorn Fish which we guessed they would.  I love that they are made from large pieces of fish and aren't ground up or some odd texture.  If you aren't sure which stores near you carry SeaPak frozen seafood, then check the SeaPak store locator.
Try the New Popcorn Fish for FREE
Go enter the Popcorn Fish Giveaway on SeaPak's Facebook page.  They are sending some to their fans so they get to try it for free!

Enter This Giveaway
You must complete the form below to enter this giveaway once per person. If you can't view the entry form below click here (you may need to scroll down until you see this giveaway). If you still can't view the form, please email me with your name, answer the question below and use the subject line "SeaPak Giveaway". Please answer this question: Which SeaPak recipe do you want to try?
[iframe: src="https://spreadsheets.google.com/embeddedform?formkey=dGRwNEM4bmpaa3I0bHdfT3EyQkliYWc6MQ" width="600″ height="540″ frameborder="0″ marginheight="0″ marginwidth="0″]
Giveaway Guidelines and Disclosure
SeaPak is providing the prize(s) for this giveaway at no cost to me. This giveaway is not administered or sponsored in any way by SeaPak or its affiliates, but soley by Freebies 4 Mom. Any questions or comments regarding this promotion must be sent to Freebies 4 Mom and not to SeaPak. I received a SeaPak Prize Pack as a thank you for hosting this giveaway. My product review is my honest opinion and is not reviewed or edited by SeaPak. For more information about how reviews and giveaways are conducted on Freebies 4 Mom, please read my Disclaimer, Disclosure, and Privacy Policy. The email addresses that I collect for this giveaway will only be used for the purpose of contacting the winner(s), and will never be sold or given to anyone. This giveaway is only open to residents of the United States who are 18 years of age or older. You may enter only once per person. This giveaway will close Thursday, November 4 at 11:59 pm (CT). I'll announce the first name and first initial of the last name of the winner(s) in a new post the next day and contact the winner(s) by email. I will draw the names of the winner(s) by using the random number generator at Random.org from the eligible entries received. If a winner does not contact me within 72 hours by email, I will draw a new winner. The winner(s) will receive their prize directly from SeaPak and Freebies 4 Mom is not responsible for lost or misdirected prizes (but of course I'll make every effort to make things right if there is a problem).
Good luck and remember that you need to complete the form above to enter this giveaway. You are welcome and encouraged to post comments here, but comments will not be considered as entries in this giveaway. Just for fun, please leave a comment and:  Which SeaPak recipe do you want to try?
Thanks for entering and come back after Thursday, November 4 to find out who won, or visit my Winners section under the "Giveaways" category in the menu bar.
Freebies 4 Mom readers are Winners – see what prizes I've given away!
672 total views