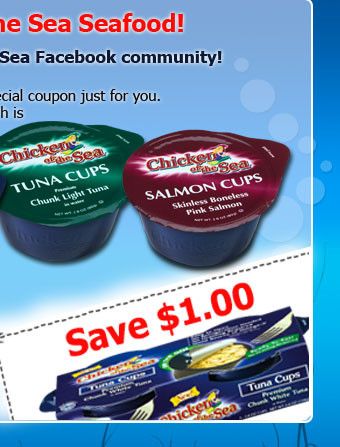 Print two high-value coupons to Save $1.00 on 1 Chicken of the Sea product.  Here are click-by-click instructions to print this coupon:
1.  "Like" Chicken of the Sea on Facebook
2.  Click the red "Get Coupon" button on the "Get a Coupon" tab
3.  Click the gray "Print Coupon" button to print this coupon hosted by Coupons.com
4.  Click the back arrow in your browser to print a second coupon,  your coupons will expire in one month
Find more high-value printable coupons by visiting my black menu bar by pointing your mouse at "2 Coupons" and then "Coupons to Print".  Got a hot coupon to share?  Please contact me!
216 total views