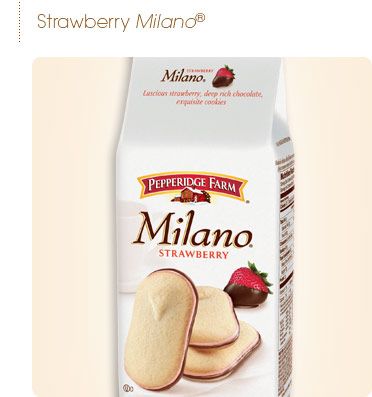 Enter daily the Share Your Milano Moment on Facebook for a chance to win 24 bags of Strawberry Milano Cookies ($81.36 ARV).  Thanks to Sweeties Sweeps for sharing how to win this sweet  prize.  Wow – that's a lot of cookies – and about 32 people will win every day in this sweepstakes that started July 1 and ends August 2.  You'll have to "Like" Pepperidge Farm Milano Cookies on Facebook in order to enter this sweeps.  You do have to allow the "Milano Moment Sweepstakes" application to access your profile (but you can delete it later).
Can't wait to win your cookies?  Print a coupon to Save $0.55 on Strawberry Milano Cookies.  Remember you can print two coupons, and they expire Aug. 26.  Coupon prints at the top of the page, no ad below.
For more winnable sweeps and to learn strategies to help you win, go visit Sweeties Sweeps to play and win!
Helping you win the winnable Daily Sweeps 4 Mom at Freebies 4 Mom
376 total views