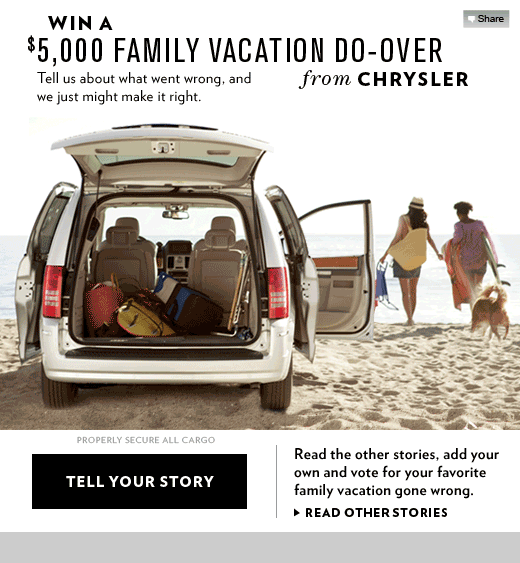 Chrysler Town & Country wants to spoil a family who deserves a vacation do-over with a $5,000 family vacation!  To help spread the word about Chrysler's new sweepstakes, Chrysler provided me with a gift card to give away.  One of my lucky readers will win a $150 prepaid gift card in this giveaway.   The gift card can be used on almost anything because it comes in the form of a prepaid gift card from a major credit company.   Now go enter the sweeps and then go enter my giveaway (just fill out the short form below).
Win a $5,000 Family Vacation Do-Over
Head over to Chrysler Town & Country on Facebook and share your story about a vacation "gone wrong" to enter their sweepstakes for a chance to win a $5,000 family vacation.  They are also randomly giving away prize packs every week.  Don't be intimidated that you have to submit your story, because you're limited to 1,000 characters (just a few sentences).  It's easy and quick to enter this sweepstakes that ends on September 30. After you enter this sweepstakes, you are welcome to post a link to your vacation story to ask for votes by leaving a comment here and you can also add it to the "Discussions" tab on my Facebook Fan page (just start a new topic).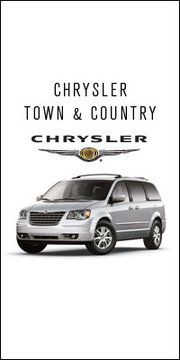 Enter This Giveaway
You must complete this form to enter this giveaway once per person. If you can't view the entry form below
click here.
If you still can't view the form, please
email me
with your name, answer the question below, and use the subject line "
Chrysler Giveaway
". Please answer this question:
Where is your dream family vacation destination?
[iframe: src="https://spreadsheets.google.com/embeddedform?formkey=dDl2QS1COVBNbVh2am1lZ1ZLR2xMcnc6MQ" width="760″ height="550″ frameborder="0″ marginheight="0″ marginwidth="0″]
Giveaway Guidelines and Disclosure
Chrysler is providing the prize for this promotion at no cost to me. This promotion is not being administered or sponsored in any way by Chrysler or its affiliates, but soley by Freebies 4 Mom. Any questions or comments regarding this promotion must be sent to Freebies 4 Mom and not to Chrysler. I did not receive products or compensation as thanks for hosting this giveaway. My product review is my honest opinion and is not reviewed or edited by Chrysler. For more information about how reviews and giveaways are conducted on Freebies 4 Mom, please read my Disclaimer, Disclosure, and Privacy Policy. The email addresses that I collect for this giveaway will only be used for the purpose of contacting the winner(s), and will never be sold or given to anyone. This giveaway is only open to residents of the United States who are 18 years of age or older. You may enter only once per person. This giveaway will close Thursday, September 23 at 11:59 pm (CT). I'll announce the first name and first initial of the last name of the winner(s) in a new post the next day and contact the winner(s) by email. I will draw the names of the winner(s) by using the random number generator at Random.org from the eligible entries received. If a winner does not contact me within 72 hours by email, I will draw a new winner. The winner(s) will receive their prize by mail directly from Chrysler and Freebies 4 Mom is not responsible for lost or misdirected prizes (but of course I'll make every effort to make things right).
Good luck and remember that you need to complete the form above to enter this giveaway. You are welcome and encouraged to post comments here, but comments will not be considered as entries in this giveaway. Just for fun, please leave a comment and tell us where's your dream family vacation destination? Now start dreaming about winning the sweepstakes or my giveaway!
Thanks for entering and come back after Thursday, September 23 to find out who won, or visit my Winners section under the "Giveaways" category in the menu bar.
Freebies 4 Mom readers are Winners – see what prizes I've given away!
1,117 total views